We are happy to announce that we have concluded a connection with Syncbnb, a channel manager that specializes in Vacation Rentals.
Syncbnb supports two-way, near real-time connectivity with more than 200+ vacation rental channels and is the only channel manager in the world to offer Zero Double Booking Guarantee.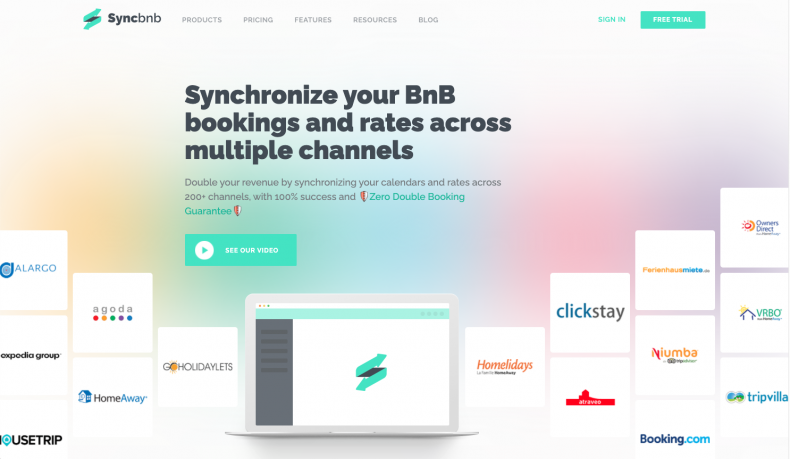 Supported functions
Vacation Rentals have different and, sometimes, simpler needs, than bnb's and hotels. And Syncbnb is well positioned to cater exactly these needs.
Syncbnb rentals are mapped to Discoveroom rooms.
Because of the nature of rentals, moving clients from one rental to other is not a requirement, so for reservations originating in Syncbnb, the "Change room" functionality in Discoveroom, is disabled. However, for reservations entered in Discoveroom originally, it is still working.
Onboarding Syncbnb rentals, for the time being, requires an one-off effort on our side to import all existing reservations. This will be automated in the near future.
Reservations entered in Discoveroom are sent instantly to Syncbnb.
Reservations originating from Syncbnb or connected channels, are transfered to Discoveroom within 5 minutes.
Requirements
To connect with Syncbnb, an active "Plus" subscription plan on the Discoveroom side is required, plus an active subscription on the Syncbnb side.
Promo
From now till the end of the year, we are running a promo for the existing Syncbnb clients: By using one of the following coupons
SyncBnb2020Μ
SyncBnb2020Υ
you can purchase a Plus subscription (monthly, or yearly, respectively) at 50% discount for the first year, provided you are not an existing client in Discoveroom, or that you have never used a Plus, Pro or Premium plan before.
Also, for the Discoveroom clients that would like to use Syncbnb, by using the coupon
DISCOVEROOM50
you can buy a subscription with 50% discount for the first three months.